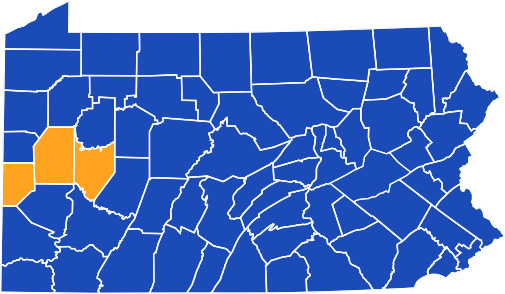 Where We Operate
PennEnergy Resources is currently focused in Southwest Pennsylvania in the counties of Armstrong, Butler and Beaver.
For More Information Contact Us
Site Selection & Construction
Before a drilling location is selected there are numerous things that occur, which include: strategic search for optimum locations for natural gas extraction, utilizing a variety of technologies and tools; work with landowners to lease oil and gas mineral rights; and, comply with rigorous environmental permitting requirements. Pad site construction can begin once we have received the necessary regulatory permits. Drilling pads are designed to minimize environmental impact from erosion and sedimentation while allowing space for the necessary equipment that will be used during operations. We may also construct lined water impoundments in order to store fresh water that will be used during operations. Topsoil that is moved during the construction phase is kept for site reclamation, allowing for the land to be restored back to its original condition.
Drilling & Completion
Drilling activity typically includes several phases of operations, including equipment mobilization, vertical drilling, the installation of multiple layers of steel casing and cement, and horizontal drilling. It is during the drilling phase that multiple layers of steel and cement are installed below the surface to ensure that the fresh water aquifers and other geological strata remain protected throughout the process. A horizontal well will extend several thousand feet laterally once drilling has been completed. The entire process of drilling a horizontal well can take approximately 30 days.
After the well has been drilled, it is necessary to Complete the well in order to allow natural gas to flow from the targeted shale formation into the well bore. This phase of operations is often referred to as hydraulic fracturing.
Hydraulic fracturing is a process that pumps a mixture of water, sand and very diluted additives under pressure down the well and into the shale creating small pathways allowing natural gas to move from the rock into the wellbore. Hydraulic fracturing typically requires several million gallons of water for each horizontal well that is drilled. The use and movement of water for hydraulic fracturing is closely monitored and regulated by environmental agencies. Modern hydraulic fracturing is a safe, well-developed and highly monitored process that is used to complete almost all gas and oil wells in the United States.
Drilling and Completion operations are performed by qualified and experienced specialists, with strict oversight of all activities to ensure the safety of people and protection of the environment.